On May 8, 2021, the Norma Livingston Ovarian Cancer Foundation presented a check for $120,000 to fund Ovarian Cancer Specific Research
During the month of May, the Norma Livingston Ovarian Cancer Foundation presented checks for $120,000 to the University of Alabama at Birmingham's Division of Gynecologic Oncology and $20,000 to the University of South Alabama Mitchell Cancer Institute to fund Ovarian Cancer specific research.
UAB GYN/ONC Grant Funding
Over half of women diagnosed with ovarian cancer report having pain and traditional therapies for cancer result in negative side effects, including pain. Over the last several decades, there have been little to no improvements in the treatment of cancer pain.
A high-quality, nutrient dense diet is associated with positive outcomes in various cancers, and quality of life is positively impacted by a healthy dietary intervention. However, studies looking at the interaction between diet, cancer and pain are severely lacking.
This project will provide the first steps in evaluating the potential for diet to be used as an impactful therapy for individuals diagnosed with ovarian cancer and concurrent pain. the potential to be rapidly moved into clinical testing for ovarian cancer patients who are experiencing pain.
USA Mitchell Cancer Institute Grant Funding
This research will investigate new screening markers for the early detection of ovarian cancer using banked tissues and plasma from the incessant ovulatory hen model. Utilizing single-cell sequencing will allow researchers to determine which subpopulations of tumors contain increased expression of oncogenic pathways thus allowing us to trace the origins of oncogenesis in these tissues. Additionally, researchers aim to isolate and analyze exosomes from plasma and urine from women with confirmed or suspected ovarian cancer and then correlate expression of oncogenic signatures with that from tissue samples to determine early detection markers.
Over the past 17 years, NLOCF has funded over $1,7000,000 in ovarian cancer research. In the past funds have been used to identify why women with ovarian cancer become resistant to chemotherapy, why they recur, and how the medical profession can prevent this from happening. Advances in surgery and chemotherapy have improved patient responses and increased their time in remission, but cure rates have not significantly changed in the last 20 years and the majority of patients eventually recur.
Car Tag History
Alabama is one of three states who currently have an ovarian cancer car tag. The Waldrep family was instrumental in motivating the State of Alabama to sell the Drive Out Ovarian Cancer car tag after the death of their daughter, Brittany Waldrep. When asked, Megan Waldrep-Stalnaker, Brittany's sister why it was so important to her family to establish the car tag for the state of Alabama she said, "Presently, the majority of women diagnosed with ovarian cancer are diagnosed in the later stages because there is no accurate screening test to detect the illness at its earliest stage. The Drive Out Ovarian Cancer car tag raises money for research in hopes that one day, doctors will discover an early detection test for ovarian cancer, so that women will be tested for this insidious disease at their annual checkups just like cervical and breast cancers."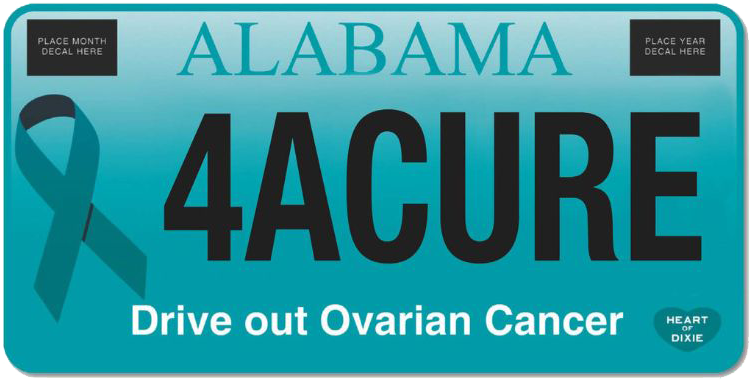 Brittany Waldrep
Prior to her diagnosis, Brittany was enjoying her first "real" job, post- college, and saving to buy a house. She was a great daughter, a loving sister and devoted aunt. Britt loved her many friends, and was always ready to go out to eat, to the lake or to the beach. But, she was taken too soon and her loss has left an empty place in the lives of all of those who loved her.
Proceeds
The proceeds from the sale of these tags go to fund ovarian cancer research at University of Alabama Birmingham Division of Gynecological Oncology.
How to Get Your Tag
Take your current tag and renewal information to your local DMV or Courthouse and ask for the "Drive Out Ovarian Cancer Car Tag"
The cost of the car tag is tax deductible
$41.25 of the $50 fee is received directly by the Norma Livingston Ovarian Cancer Foundation to fund local research through the Division of Gynecology Oncology at UAB
Over a million dollars has been donated to research to date